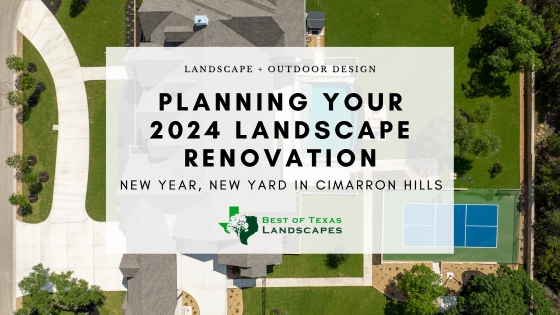 As the calendar turns a page to welcome 2024, it's the perfect moment to envision a fresh start for your landscape design. In the affluent and serene neighborhood of Cimarron Hills, where every home boasts its own slice of Texan paradise, landscape renovation is not just about keeping up with the Joneses; it's about crafting a personal haven that resonates with the rhythm of the seasons and the latest in sustainable design. Let's explore the 2024 outdoor trends that are set to redefine Cimarron Hills landscaping and how you can start planning your outdoor design renovation today.
Embracing Native Beauty: The Top Plant Picks for 2024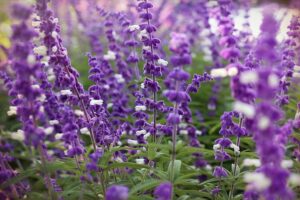 Texas's natural flora is a kaleidoscope of resilient and vibrant species that promise to bring life to your garden with minimal environmental impact. The coming year is all about going local with your plant choices. Consider the elegant Texas Lantana, with its clusters of fiery blooms, or the soft silver foliage of the Texas Sage, both of which are drought-tolerant and attract pollinators. For a pop of color, the Bluebonnet remains an iconic choice, while Mexican Feather Grass can add a touch of whimsy to your landscape.
Sustainable Practices: Water Conservation and Beyond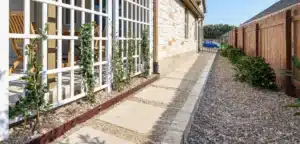 With each year, the importance of sustainability in landscaping becomes more pronounced. Water conservation measures are at the forefront of Cimarron Hills landscaping trends. Rainwater harvesting systems are not just eco-friendly but also a practical solution to keeping your landscape lush in the Texas heat. Drip irrigation is another trend that continues to grow, ensuring that every drop of water is utilized efficiently.
Composting is another facet of the sustainable trend. By converting yard and kitchen waste into nutrient-rich compost, you're not only reducing landfill contributions but also enriching your soil naturally.
2024's

Bold Design Features

The upcoming year is seeing a blend of boldness and subtlety in design features:
Outdoor Living Spaces: Expand your home's living area by creating functional outdoor spaces. Think of outdoor kitchens for the culinary enthusiast or a cozy fire pit area for those starry Texas nights.
Edible Gardens: Edible plants are having a moment, and for good reason. They bring a practical and interactive element to your garden. Herb gardens, in particular, are becoming a staple in the Cimarron Hills landscape.
Smart Lighting: Integrating smart, solar-powered lighting systems not only enhances the ambiance but also contributes to safety and security.
Natural Stone Hardscaping: As a nod to the rugged Texas landscape, natural stone for patios, walkways, and retaining walls is becoming increasingly popular.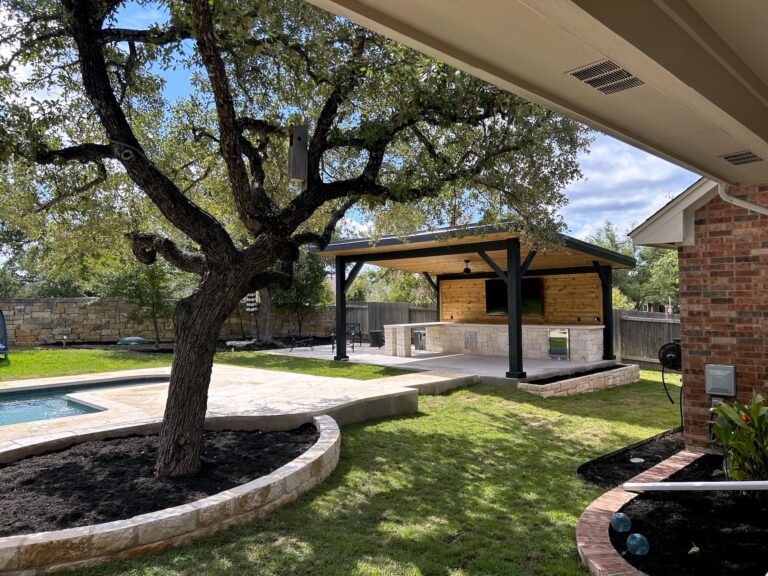 The 2024 Color Palette: Nature-Inspired Hues
In 2024, the trend is steering toward a color palette that reflects the surrounding landscape. Earth tones that blend seamlessly with the natural environment are in vogue. Splashes of wildflower colors—yellows, purples, and reds—are expected to punctuate these muted bases, mirroring the colors of the Texan countryside.
Technology Meets Tradition
Smart technology is infiltrating the world of landscaping with innovations that allow for remote garden monitoring and maintenance. Smart sensors can now regulate irrigation based on real-time weather conditions, and app-controlled landscape lighting systems let you manage the ambiance from anywhere.
Cimarron

Hills Landscaping: Get Started on Your Outdoor Renovation

As you look to renovate your garden in Cimarron Hills, start by envisioning the role you want your outdoor space to play in your daily life. Whether it's a sanctuary for wildlife, a playground for your children, or an entertainer's dream, your garden can be tailored to fit your vision.

Consult with a local landscape renovation Texas expert who understands the unique climate and soil conditions of Cimarron Hills. Together, you can map out a garden that's not only in line with the 2024 trends but also personalized to your taste and lifestyle.

Your New Year's resolution might just be a commitment to the environment, a pledge to spend more time outdoors, or a desire to beautify your corner of the world. Whatever your motivation, let 2024 be the year your garden transformation becomes a reality.

Renovating your landscape is an exciting journey, and with local Cimarron Hills landscaping trends, the possibilities are as expansive as the Texas sky. With thoughtful planning and an eye for sustainable, trend-forward designs, your garden will not just be ready for the new year but set to thrive for many seasons to come.