Outdoor design plans include everything from your plants, to walkways, functional outdoor living spaces, side yards, and anything else you might want outside. Homeowners in central Texas near Leander, Cedar Park, Liberty Hill, or Georgetown know it can be challenging to choose when you have the luxury of creating a year-round landscape design due to our moderate climate. If you're planning to update your outdoor design and landscaping this summer, consider using native plants and hardscapes in your design.
Native plants are naturally adapted to the local climate and soil conditions, which means they are low-maintenance and require less water than non-native plants. Hardscapes, such as patios, walkways, and retaining walls, can add functionality and aesthetic appeal to your outdoor space. In this article, we'll explore some native plant landscaping and hardscaping ideas that are perfect for Central Texas homeowners looking to enhance their outdoor living experience.
Outdoor

Design – Native Plants

1. Golden Barrel Cactus (Echinocactus Grusonii) – A beautiful addition to any xeric landscape, this cactus does best in well-drained, even rocky soil. Native to Texas and Arizona's high desert regions, barrel cactus can get to be quite large, at up to about 3 feet wide.

2. Blackfoot Daisy (Melampodium leucanthum) – This hardy perennial produces cheerful white flowers with yellow centers from spring through fall. It is an excellent choice for a low-maintenance garden and can be used as a groundcover or border plant.

3. Lindheimer's muhly (Muhlenbergia lindheimeri) – This ornamental grass features delicate pink or purple blooms that sway in the breeze. It is drought-tolerant, low-maintenance, and can add movement and texture to your landscape design.

4. Mexican Feathergrass (Nassella tenuissima) – This fine-textured ornamental grass can add softness and movement to your landscape design. It is drought-tolerant and can thrive in a variety of soil types.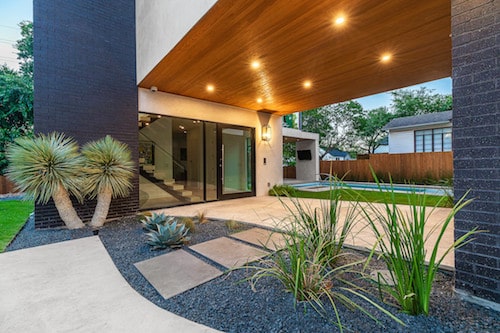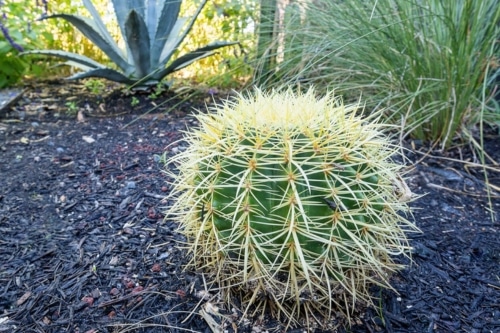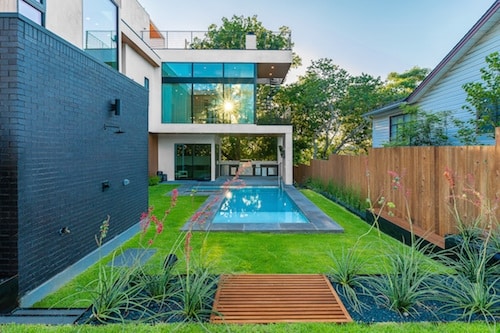 Landscaped

Hardscapes

Outdoor designs range from simple paths and walkway lighting to patio installations. Spend more time outdoors this summer and make 2023 a year to remember.

1. Limestone Retaining Walls – Limestone is a popular choice for retaining walls in Texas because it is abundant and can be sourced locally. Limestone retaining walls can add a rustic, natural element to your landscape design while also providing stability and erosion control.

2. Flagstone Patios – Flagstone is a versatile and durable material that is well-suited for patios in Central Texas. It comes in a variety of colors and textures, including limestone, sandstone, and quartzite. Choose a type of flagstone that complements your home's architecture and blends well with your landscape design.

3. Granite Walkways – Granite is a durable and low-maintenance material that is perfect for walkways in Texas. It is a native stone that is abundant in the Hill Country region and can add a natural, earthy element to your landscape design. Choose from a variety of colors, including gray, black, and pink.

4. Sandstone Water Features – Sandstone is a common type of stone found in Texas and is well-suited for water features. Its porous nature allows water to flow through it easily, making it an ideal material for fountains and ponds. Sandstone comes in a range of colors, including yellow, red, and brown.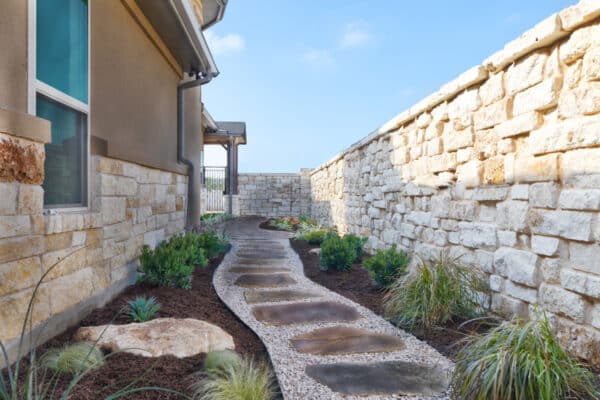 Incorporating hardscapes into your outdoor design offers both beauty and functionality to your space. If you're a custom homeowner in Liberty Hill or Leander, consider using locally sourced or native stones in your hardscaping design that complements the style of your home.
Limestone retaining walls, flagstone patios, granite walkways, and sandstone water features are just a few of the options available to you. To get started on your hardscaping project, reach out to a local landscape contractor with experience in using Texas stones in their designs.
If you've recently moved to Texas and are looking for a professional landscaping contractor, look no further. Our team of experts can help you create a custom landscaped outdoor design that is personalized to your needs, functional, and beautiful. From outdoor living spaces to hardscape features, irrigation, landscape lighting, and construction crews, we can help you create the outdoor living space of your dreams.
Contact us today to learn more about our landscape design and build services.
Connect with us on Instagram! 
Serving the greater Austin areas including Leander, Liberty Hill, Georgetown, and Cedar Park, Texas.