A lush, green lawn can transform the appearance of your home. And in neighborhoods in the Liberty Hill, Texas area like Morning Star, Santa Rita, or Cimarron Hills, anything less can mean hefty HOA fines. If you're considering installing synthetic turf for your home, you're on the path to a beautiful and functional outdoor space. Below, we'll explore the various artificial grass options available, what to expect during installation, and the essential maintenance requirements to keep your lawn looking pristine year-round.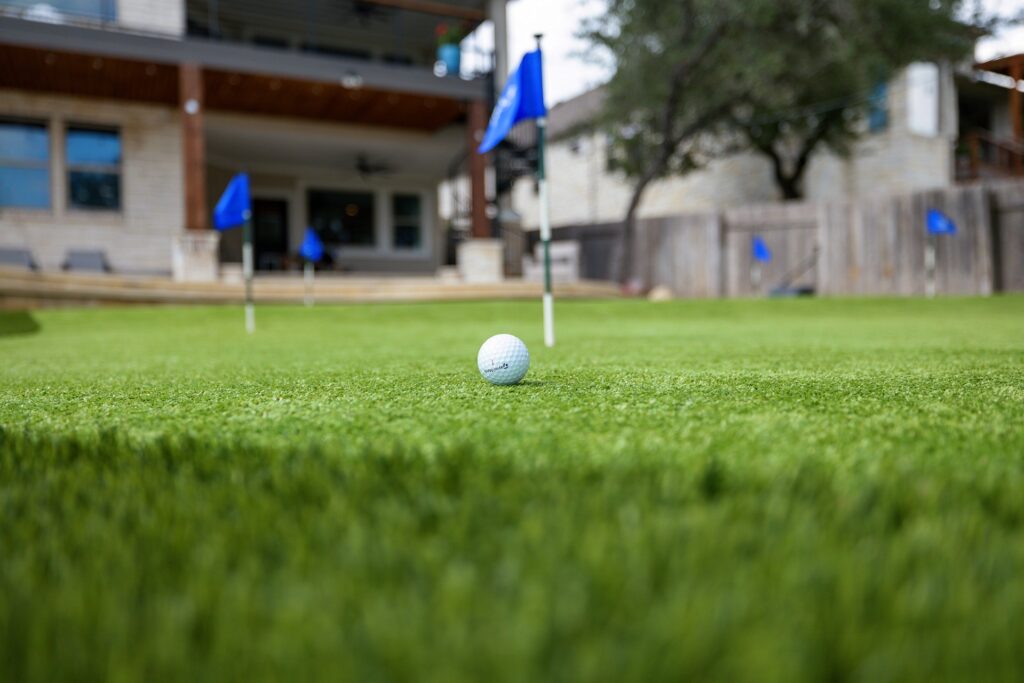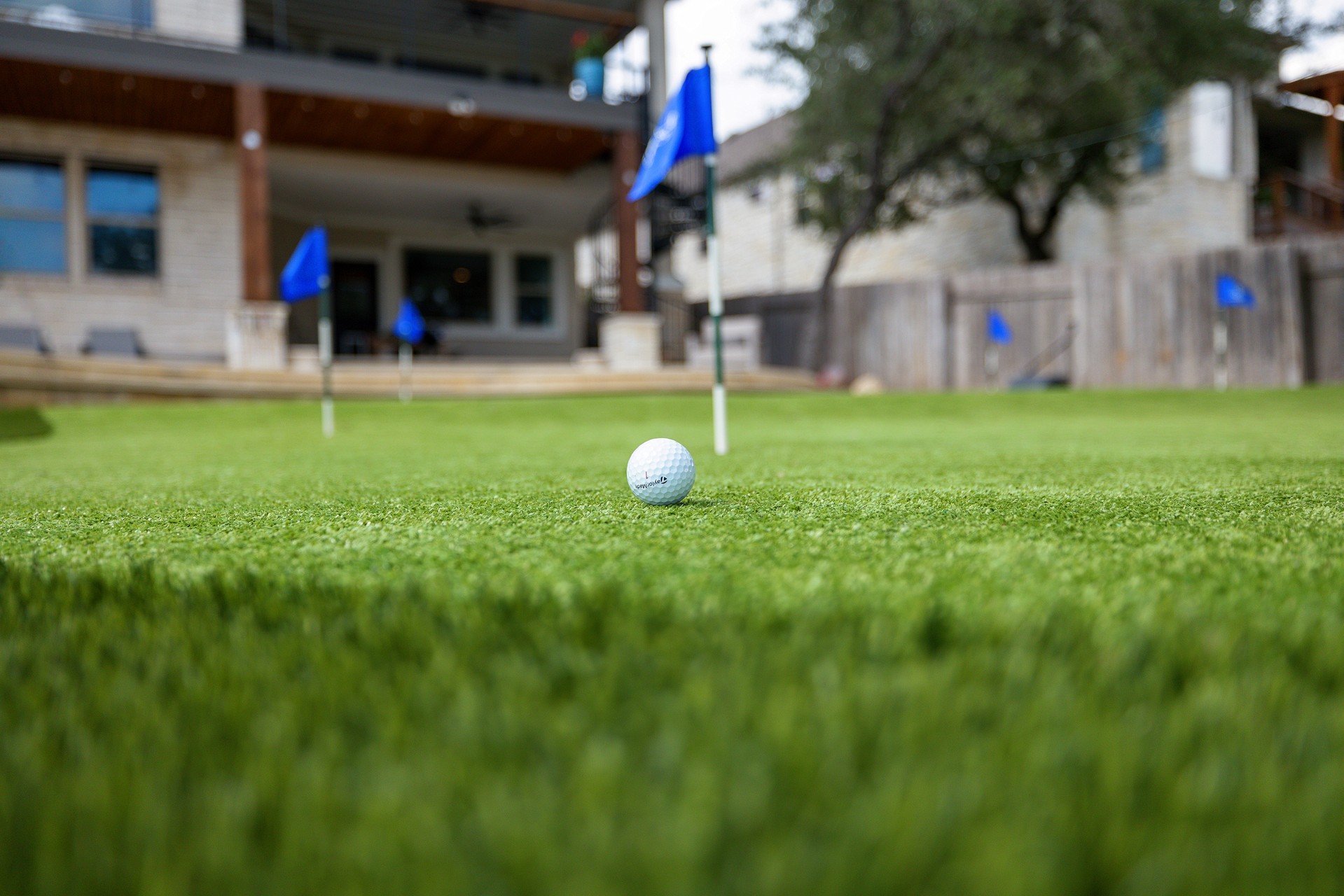 Synthetic

Turf Options

Synthetic turf comes in various styles and materials. Here are some popular options:
Nylon Turf:

Durable and resilient, nylon turf is an excellent choice for high-traffic areas.
Its strong fibers withstand wear and tear over time.

Polyethylene Turf:

Polyethylene turf is known for its natural look and soft texture.
It's a great choice for creating a realistic grass-like appearance.

Polypropylene Turf:

Polypropylene turf is budget-friendly and suitable for low-traffic areas.
It may not have the same level of durability as other materials but offers a cost-effective solution.
Are you looking to build a rec/practice zone for your athlete? Residents in the Liberty Hill area know we love our football and the most commonly used artificial grass for football fields is often referred to as "FieldTurf" – best known for its durability, shock absorption, and low maintenance requirements.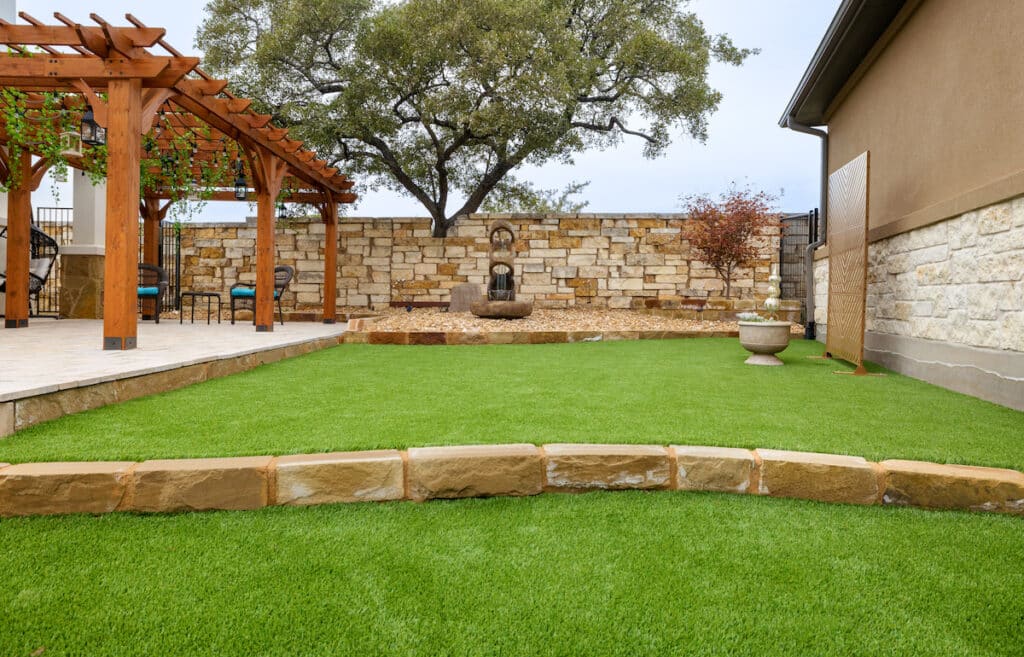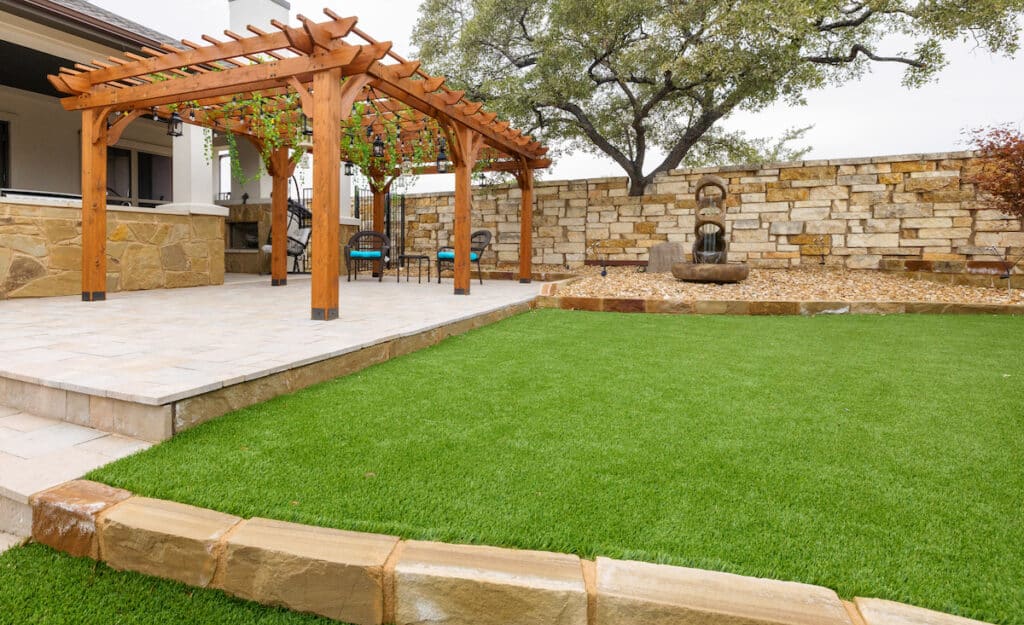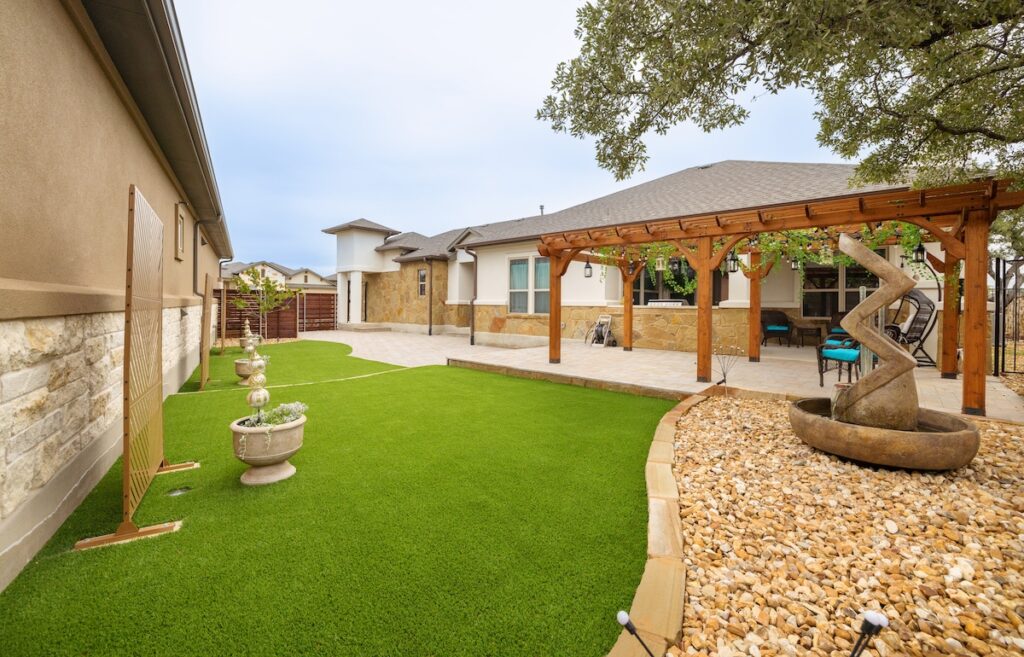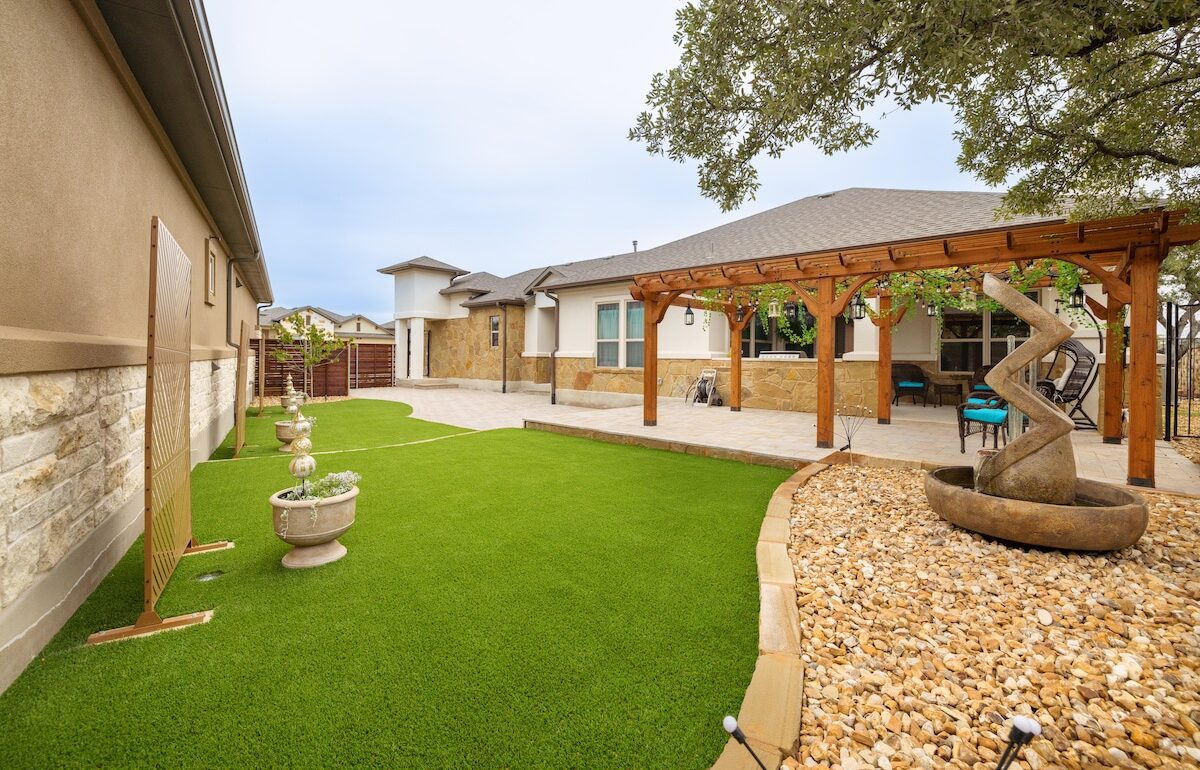 Installing

Turf At Your Home

Installing synthetic turf requires careful planning and execution. Here's what you can expect during the installation process:
Site Preparation:

Clear the area of existing vegetation, rocks, and debris.
Grade the soil to ensure proper drainage and a level surface.
Install a weed barrier fabric to prevent weed growth.

Turf Installation:

Roll out the synthetic turf and secure it in place with stakes or adhesive.
Trim the edges for a clean and precise fit.
Add infill material (typically sand or rubber granules) to support the turf's structure and improve its longevity.

Maintenance During Installation:

Keep foot traffic to a minimum during the installation process to prevent damage.
Ensure proper infill distribution for even coverage.
Turf can be incorporated in a range of landscape designs for your front and backyard. We can even integrate artificial grass into a patio extension to add warmth, texture, and dimension to an otherwise plain concrete structure. New homes in the Liberty Hill, Texas area are often built with little more than a 5×7 slab for a back porch. A new patio extension can be an exciting part of your landscape design with the right elements to complement the overall style of your yard and home.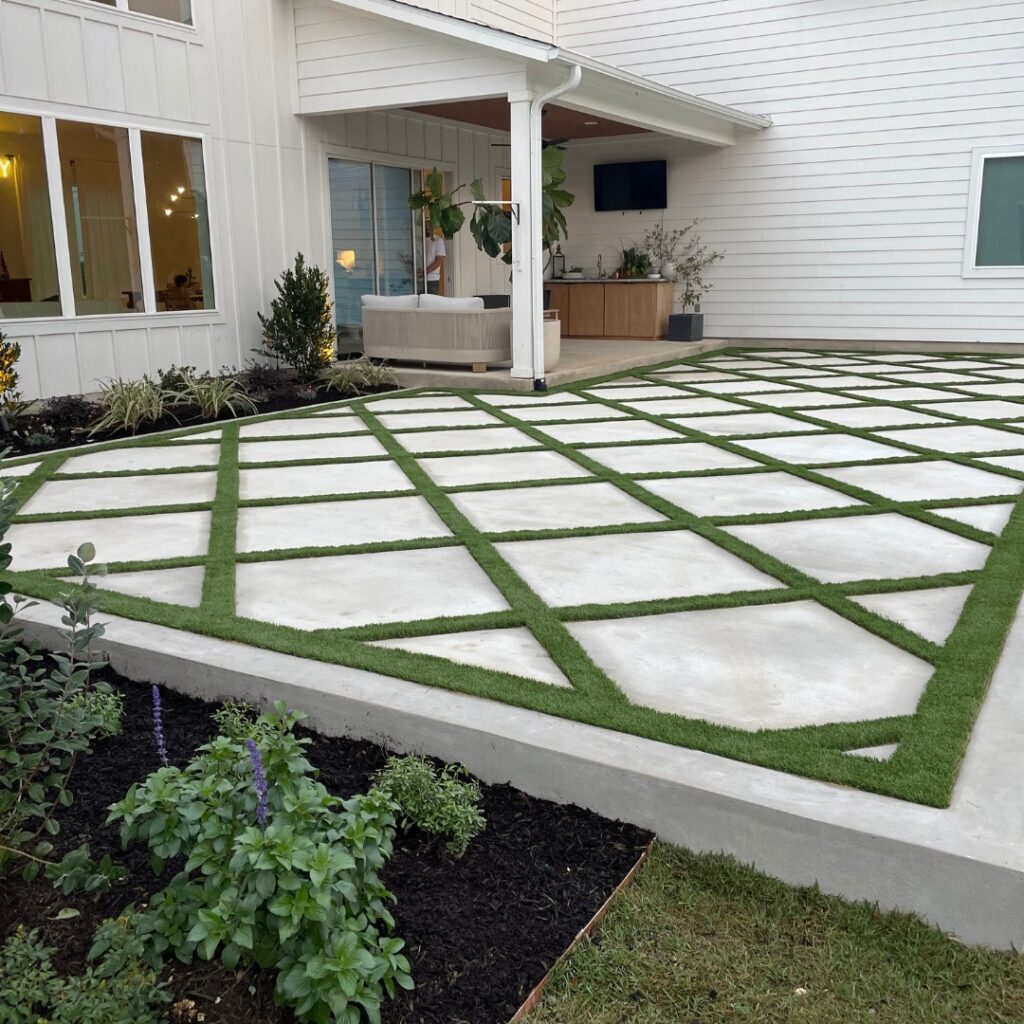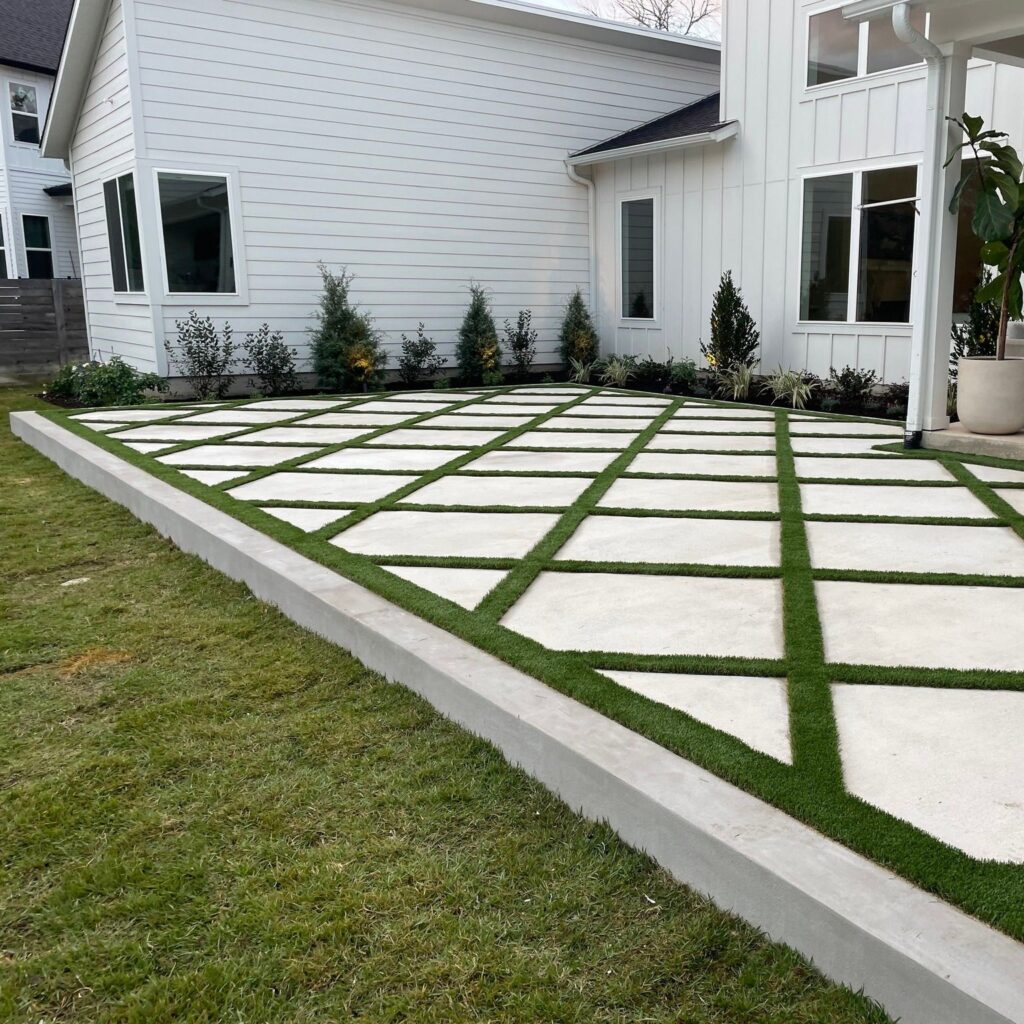 Maintenance

Requirements for Synthetic Turf

Maintaining your synthetic turf is relatively straightforward. Artificial grass requires far less effort compared to natural grass. Here are essential maintenance tasks:
Regular Brushing:

Brush the turf fibers regularly to keep them upright and maintain a natural appearance.
Remove leaves and debris to prevent them from accumulating.

Occasional Rinsing:

Rinse the turf occasionally to remove dust and pollen.
Use a mild detergent and water solution for more thorough cleaning when necessary.

Avoidance of Heavy Objects:

Avoid placing heavy objects or furniture on the turf for extended periods to prevent compression.

Repair Tears or Damage:

Patch or repair any tears or damage promptly to prevent further issues.
Consult the manufacturer's guidelines for repair procedures.

Pest and Weed Control:

While synthetic turf is less susceptible to pests and weeds, monitor and address any issues promptly.

Seasonal Care:

Adjust your maintenance routine based on the changing seasons and weather conditions.
Periodically inspect the infill material and top up if needed.
Installing and maintaining synthetic turf for your Liberty Hill area home can provide you with a lush, green lawn that enhances your property's beauty and value, all while requiring less upkeep than natural grass. And help you avoid those pesky HOA fines for brown/dead grass. By choosing the right synthetic turf material, following proper installation procedures, and consistently caring for your artificial lawn, you can enjoy a vibrant and hassle-free outdoor space year-round. With these guidelines in mind, you'll be well on your way to creating a stunning, functional, and well-maintained synthetic turf lawn that you and your family can enjoy for years to come.
See more of our landscape designs with turf in our gallery.
Serving Leander, Liberty Hill, Georgetown, and Cedar Park, Texas areas.