Xeriscape landscapes need not be cactus and rock gardens. They can be green, cool landscapes full of beautiful plants maintained with water-efficient practices. The same green Texas-style landscape which we are accustomed to can be achieved and still conserve water. In urban areas of Texas, such as Austin and its surrounding cities, about 25 percent of the water supply is used for landscaping and gardening. With all of the local water restrictions and increasing drought seasons throughout Texas, xeriscaping is becoming more widespread. Even with all the rain, we have had these past few months, we know Texas weather can change on a dime. According to Drought.gov, the Williamson and Travis county areas are up 1 – 2 inches from our monthly average rainfall.
This type of landscaping is about introducing and using indigenous plant materials that will keep the water use low on properties. In addition to lowering water usage, xeriscaping is also about having a landscape with minimal maintenance. So, instead of having large areas of grass lawns around your home, you can incorporate plants that require little water and maintenance. It's something we've seen clients in Central Texas want for the past few years. The sustainable trend is especially popular in Austin.
BENEFITS OF XERISCAPING YOUR YARD
Reduce water waste.

Xeriscaping can reduce water waste up to 50 – 75%!

Reduce maintenance.

If it rains a lot, like these past few months, you will need to mow more often. If it doesn't rain, then you have to work harder to keep your grass alive. Maintenance is minimal with xeriscaping as you're focusing on planting items that naturally thrive in the Central Texas area.

Reduce cost.

Between cutting down on maintenance and water usage, you are going to save a ton of money in the long run with xeriscaping.

Reduce fertilizer usage.

Another benefit of taking advantage of native plants is that you won't have to use chemical supplements to help them stay healthy and grow. Simple organic soil is the only supplement needed to maintain a healthy xeriscape landscape.

Improve the overall look of your home.

Dead grass and plants struggling to survive is an eyesore for any neighborhood. By planting native plants that thrive in our Central Texas environment you will never again have to deal with this dilemma. 
WHERE TO INCORPORATE XERISCAPE
Xeriscaping can work on pretty much any area of your landscaping, but there are certain spots that will be more efficient than others. Some prime real estate for xeriscaping include low-traffic areas, plant beds, around water features, surrounding patios or large grassy areas.
10 Popular Texas Xeriscape Plants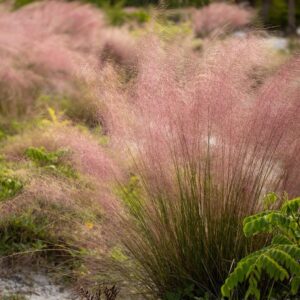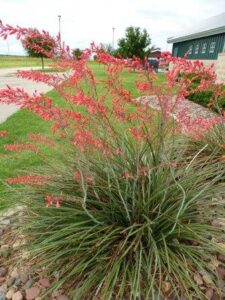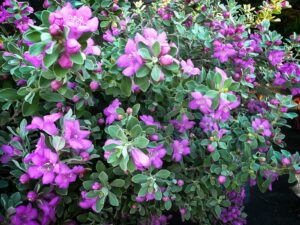 We choose native or adaptable plants that fit your landscape's conditions and style. Here are 10 popular plants used in xeriscaping:
Bat-Faced Cuphea

: It's red and purple flowers resemble the winged animal that this plant is named after. It needs full to partial sun and is heat tolerant. Bat-faced cuphea grows about 1 foot tall and wide.
Black-Eyed Susan

: This perennial has large, yellow blooms and does well in Central Texas all the way to Houston. It needs to be cut back during the winter and has a height and spread of 1 to 2 feet.
Desert Willow

: This tree grows quickly and has flowers through Spring and Summer.This tree grows 15 – 25 feet tall with a spread of 15 – 25 feet. The desert willow does best in full sun areas.
Pink Muhly

: This ornamental grass has pink, feathery seed heads during the fall that add color. They can reach 2 – 2.5 feet high with a 2 – 3 foot span.
Purple Heart

: With purple leaves and small, dark pink flowers, this plant will die back during the winter and return in spring. Purple Heart can grow 12 – 18 inches in height and spread.
Red Yucca

: This Texas native plant has succulent leaves that resemble an ornamental grass. The Red Yucca grows best in full sun and will bring a pop of color to your landscape. They grow 6 feet high with a 4 foot spread.
Sedum

: There are several different types of Sedum, including ones that work well with rock gardens. They can range in height from 2 inches to 2 feet – making the smaller ones a good ground cover option.
Texas Sage

: This shrub provides plenty of purple flowers throughout the year, and it has a height and spread of 4 – 5 feet. 
Texas Redbud

: This tree can grow 10 – 20 feet tall and blooms white, pink or purple. 
Trailing Lantana

: Good for all Texas regions, it blooms summer to fall with red, orange and yellow flowers. It reaches 3 – 5 feet high with a 4 – 6 foot spread.

Now that you know what xeriscaping is and how to incorporate this sustainable practice into your landscape. Ready to save water and money on your property with xeriscaping? Contact us at (512)260-1430, or fill out our online form for a free consultation.