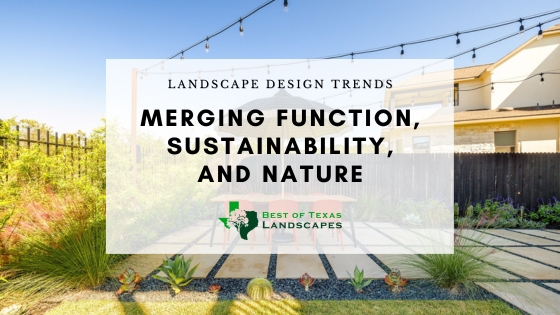 When envisioning our outdoor spaces for the coming year, we see a clear blend of functional design, eco-conscious materials, and a celebration of the natural environment included in trending landscape designs in Austin. Here's a dive into some of the key trends in outdoor living:
Eco-Friendly Design & Technology
Accessible & Functional Spaces
Sustainable Materials
Intentional Planting
Innovative Hardscapes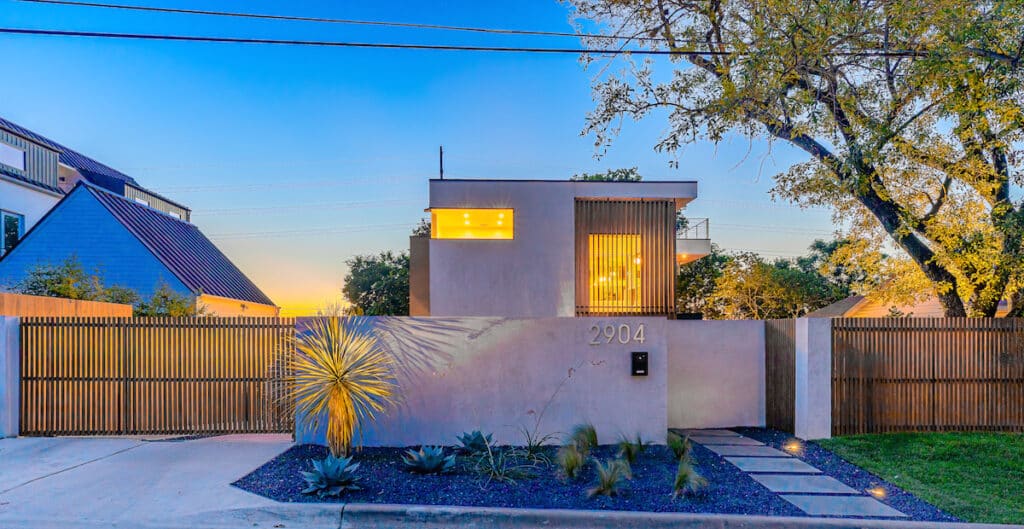 Eco-Friendly

Outdoor Technology

The push towards sustainability is driving technological innovations that are kinder to our planet.
Smart Sprinkler Systems: Water conservation meets tech. Modern sprinkler systems now come equipped with sensors that adjust based on weather conditions, ensuring optimal watering and minimal waste.
Timed Outdoor Lighting: Solar-powered lights and outdoor lighting systems with timers not only save on energy but also provide ambiance when you want, where you want.
Functional

Spaces for Modern Living
1. Accessible Spaces:
The modern outdoor design emphasizes inclusivity, ensuring areas are safe and welcoming for everyone. To this end:
Safety and Visibility: Enhancements such as adhesive traction tapes on steps, motion-sensing lights in frequented areas, and large, reflective or backlit house numbers improve both accessibility and safety.
Ease of Access: Technology-infused features, like being able to lock and unlock doors via smartphones or foot-operated openers installed on door bottom rails, are making a prominent mark, simplifying entries and exits for everyone.
2. Nature-Inspired Spaces / Merging Indoor-Outdoor Spaces:
Today's homeowners yearn for a seamless transition between the comforts of their interiors and the freshness of the outdoors.
Alfresco Designs: Opting for alfresco-friendly flooring, furniture, and décor that align with your home's interior style ensures a natural flow from indoors to outdoors.
Indoor-Outdoor Spaces: Innovative door designs, as Alyce Lopez, Owner and Principal Designer of The True House suggests work, "For homes where square footage is at a premium, adding bi-fold or stacking sliding glass doors is an innovative way to expand interior spaces and embrace the outdoors." These designs invite in abundant fresh air and natural light, erasing the borders between indoor and outdoor living.
Intentional Plantings: Instead of sporadically planting everywhere, create specific plant beds. This can reduce watering needs, as you can group plants by their water requirements. Moreover, fewer but larger beds can be easier to maintain than numerous small ones.
3. Work-From-Home Spaces:
The rise of remote work has spurred the need for tranquil outdoor workspaces.
Natural Work Stations: Picture a spacious all-weather table as your desk, shaded by an umbrella. Accents like a gentle water feature or hummingbird feeder can transform your work hours, making them a delightful, nature-infused experience.
Sustainable

Materials

With the value of the global sustainable home decor market rising, sustainable materials are not a fleeting trend. They're here to stay.
Reclaimed Elements: Think wood coffee tables made from reclaimed lumber or lounge chairs fashioned from landfill- and ocean-bound plastic.
Repurposed with Purpose: Old items get a second life, like DIY planters from repurposed materials or jute welcome mats.
Eco-conscious Shopping: Be it biodegradable pots or shopping with brands that prioritize the environment, every choice is a step towards reducing our carbon footprint.
Native

Plants

Native plants answer the call for both beauty and sustainability.
Vertical Gardens & Drought-Resistant Plants: With changing climate patterns, homeowners are leaning towards water-efficient landscaping. EPA's digital tools are a great resource, guiding homeowners on the best drought-resistant plants for specific areas and offering water-saving landscaping tips.
Alternative Turfs: Traditional lawns are making way for alternative turfs that are more adaptable to various weather conditions and require less maintenance.
Celebrating Local Flora: With the unpredictable weather patterns of late, water-efficient landscaping using native and drought-resistant plants is gaining traction. Resources like the EPA's digital tools guide homeowners toward optimal choices for their specific regions.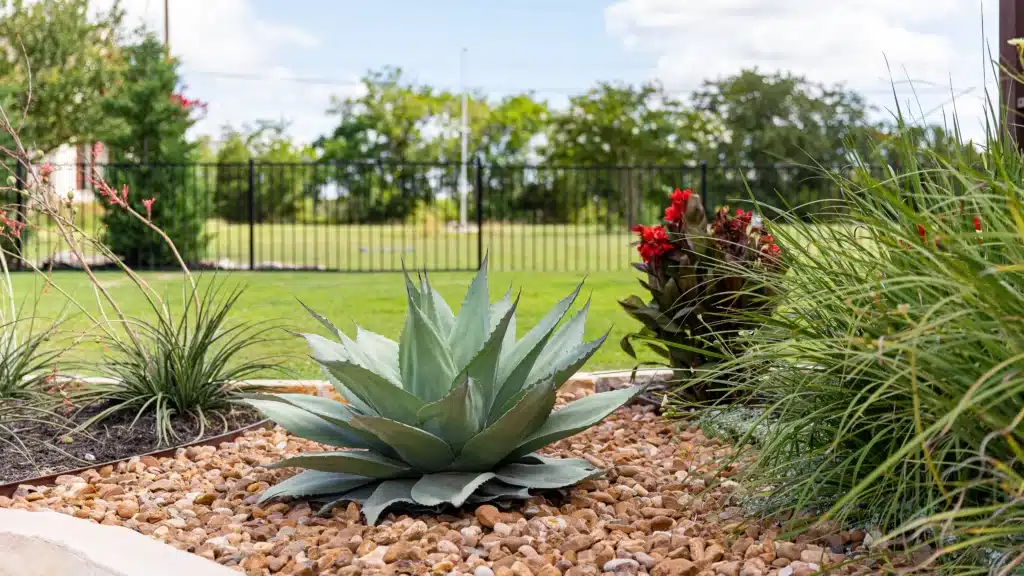 Innovative

Hardscapes

In Texas, the use of locally-sourced limestone has become increasingly popular. Limestone patios and walkways provide a naturally beautiful, durable, and heat-reflective surface that's perfect for the Texas sun. Not only is it aesthetically pleasing, but it also offers a cooler surface compared to asphalt or concrete, making it a favored choice for many Texan homeowners. Designing your space with functionality in mind, we can use hardscapes to create borders and patios, and add dimension to your landscape design.
Trending landscape designs in Austin are increasingly moving toward a blend of innovative technology, sustainable choices, and designs that prioritize both form and function. As we spend more time in our outdoor spaces, these trends ensure that we do so responsibly, comfortably, and in harmony with nature, and ourselves.
Are you ready to transform your yard? Team up with our expert design team to create a home and life you love. Contact us today to schedule your in-person consultation.
Serving Austin and its greater areas including Leander, Liberty Hill, Georgetown, Cedar Park, Round Rock, Pflugerville, Lago Vista, Lakeway, Marble Falls, Burnet, and Bertram